Retraining as an infrastructure apprentice
Donna Wilkinson
Donna was in her 30s and a single mother to 2 teenagers when she became unemployed. She decided to retrain as an apprentice.
"I was previously a carer then found myself unemployed and going to the Jobcentre Plus to claim benefits," she says. "This is where my work coach fortunately told me about the infrastructure technician level apprenticeship."
"I'd previously worked as a civil servant for the Inland Revenue when I was in my early 20s," says Donna, "but due to life circumstances I left to get a job closer to home."
Returning to the Civil Service
It was always Donna's intention to get back into the Civil Service, so when the opportunity came to apply for an 18-month apprenticeship in infrastructure she jumped at the chance.
The qualifications needed for the apprenticeship were English and Maths GCSE at Grade C or above which she had, but there was also the option to get an English and Maths skills qualification while on the apprenticeship if you didn't have these qualifications.
"I was given a brief summary of what to expect," says Donna. "With the help of my work coach and the Jobcentre, I applied for the apprenticeship and started as an infrastructure technician apprentice in March 2018."
"This was a great opportunity, as not only did I get a new BCS qualification at infrastructure technician level and Microsoft qualifications, I also did it whilst earning an income for my family.
"I was very impressed that I got paid a real salary for the work I did, rather than an apprenticeship wage, giving me a sense of achievement and independence."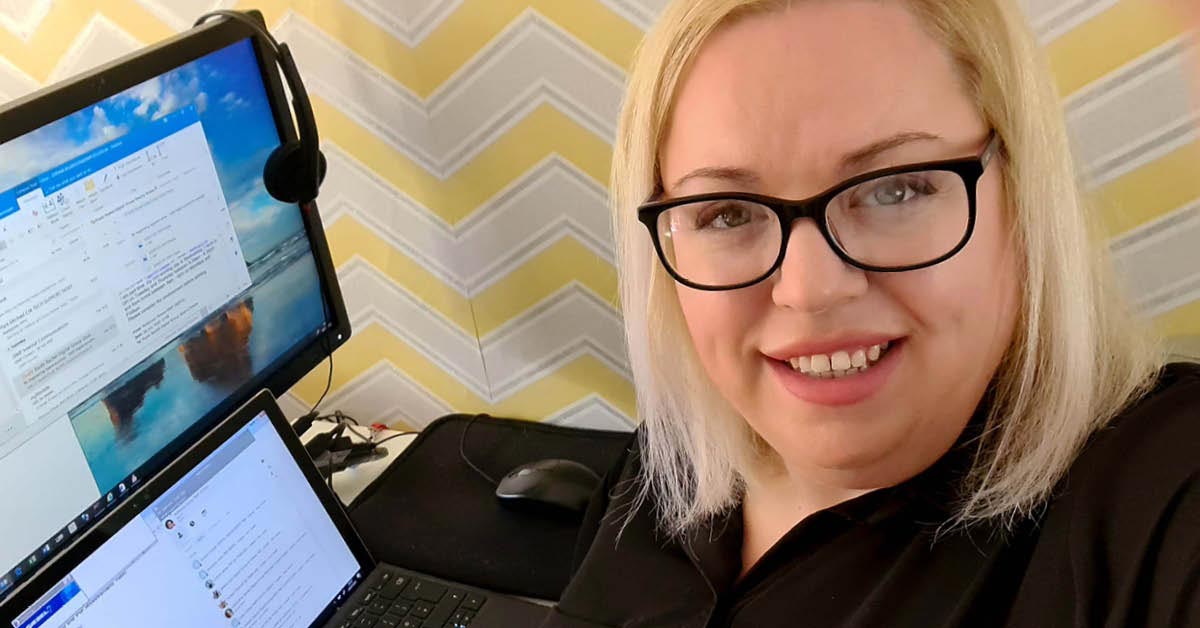 Being one of the team
Being an apprentice in her 30s did seem strange as Donna had always seen it as younger person's thing.
"I did, like most people, have preconceived ideas of what to expect, and was nervous that I'd feel old working with a group of teenagers and young adults who weren't much older than my own kids. But our group of 7 consisted of people ranging from 18 to mid-40s in age.
"Once we started, the feeling of being out of place soon fell away as every one of us felt the same. The office was a friendly place, and colleagues were so helpful and made us all feel welcome."
In between the interview and start of her apprenticeship, the role of the job Donna's group was recruited to do changed slightly – due to DWP Digital continually changing and improving its service.
Building a portfolio
"Our line manager worked above and beyond to enable us to collect information and experience towards our portfolio. Our day-to-day job only touched on aspects of the apprenticeship and the tasks we needed to complete for our portfolio, so we were given the chance to shadow other teams allowing us to learn new things.
"We were given time away from work to enable us to complete our portfolios and travel to Manchester to do our courses and exams. Preparing our portfolios in work enabled our group to work together to help each other, sharing advice and notes which in turn improved our portfolio and experience."
Debt-free success
Donna successfully completed her apprenticeship, and gained a BCS qualification at Infrastructure Technician level, along with BCS and Microsoft qualifications which are recognised nationally.
"While studying the apprenticeship, I gained 18 months' work experience which I used to apply for the permanent job I currently have on the User Administration Team in DWP Digital.
"Because of my apprenticeship, I no longer need to claim benefits and working has given me independence and a real sense of pride. My kids are really proud of me too, and I'm now able to take them away on holidays and be debt-free."
Interested in a digital apprenticeship? Read our guide to apprenticeships with DWP Digital.