Earning and learning during my apprenticeship
Lizy Gibson, infrastructure engineer apprentice
21-year old Lizy is completing a level 3 Microsoft infrastructure technician apprenticeship in the user administration team at our Newcastle hub.
Lizy tells us why she thinks an apprenticeship is a good idea.
"I started my apprenticeship aged 19, when I dropped out of a foundation degree in fine art. I love painting but I realised it's not what I wanted to do as a career – and the prospect of £50,000 of student debt definitely made me question my motives. I was interested in learning about something new and something that would enable me to have a wide range of job opportunities and prospects.
"Also by this point, I'd only ever had part-time jobs and been in full-time education, and I was used to being skint. So the idea of earning a salary while learning definitely appealed to me."
Balancing her workplace and learning
Lizy found out about the apprenticeship scheme through her local jobcentre.
"I'd always been interested in computers through photography, but I had no previous education or experience in the field. I thought I wouldn't have a chance of getting onto the apprenticeship, but only basic IT skills were required to apply."
She was happy to be successful in the recruitment process, and now works as part of the user administration team.
"My team deals with requests from users across the whole of DWP, which includes things like being added or removed from shared folders, adding software to users' profiles, or more complicated requests such as sensitive access to data. Without our team, users nationwide would have no access and therefore wouldn't be able to process payments to customers."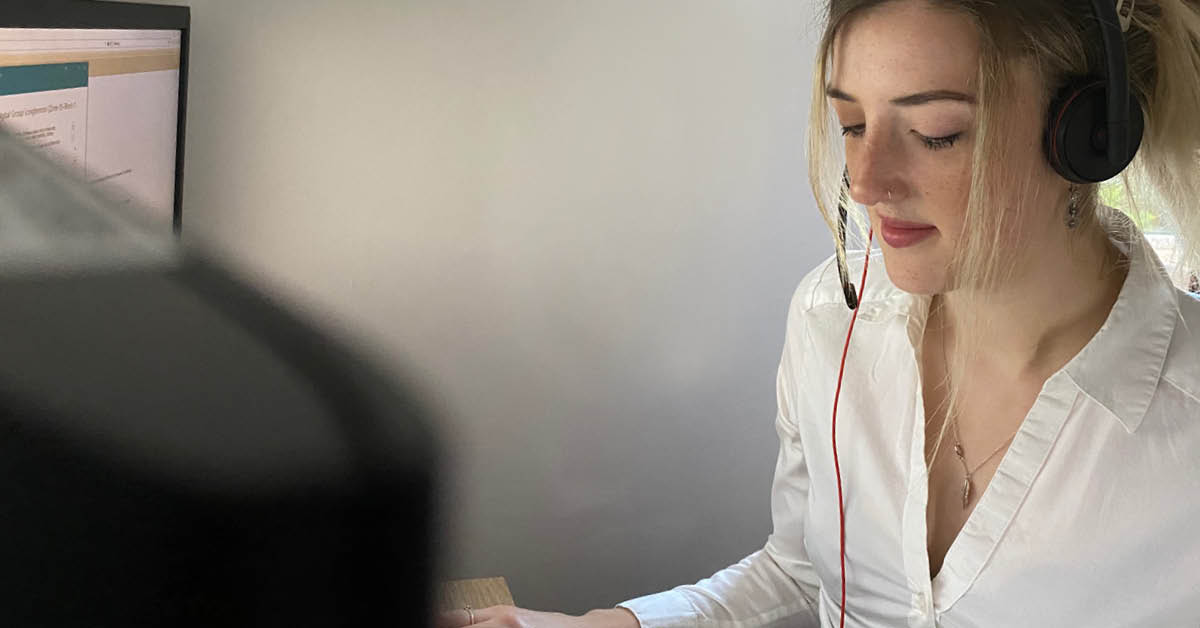 At the start of Lizy's apprenticeship, her skills coach explained how everything worked.
"I was required to keep a portfolio where I'd have to write about all of the things I was learning in the job, and provide evidence of things that attributed toward my final grade. I would be in the DWP Digital office through the week, and every 6 weeks or so, I'd go to a learning centre for a week of intensive learning with an exam at the end.
"The courses included things like scripting and coding, networking and business processes. At the start of every course week, I'd look at the module and think 'how on earth am I going to pass this exam at the end of the week?'
"But the teachers were so accommodating, and would never move on from a subject unless absolutely sure we all understood. I felt at ease that I could ask about anything I didn't understand. I was overjoyed when I passed every exam first time and it ended up being a massive confidence boost as I didn't believe I could do so well."
Supportive colleagues
Lizy initially found the learning weeks a bit daunting, as she was the only female there and didn't know anyone. But she quickly ended up making lots of friends.
"The other apprentices on the course were so lovely, and we ended up building a proper bond. We were so supportive of one another and, if one person didn't understand something, there would always be someone in the class to help out. When coming out of the exam, we'd wait for each other to see how everyone did and go for food at the end of the week to celebrate.
"Work time never got in the way of studying. During a learning week, I'd use my nights to go over everything I'd learned that day, then we would do the exam at the end of the week. You're also allowed 20% of your time in work to write up your portfolio. My team was always accommodating and made sure I was given the time I needed to do this.
Experience and opportunities
"My apprenticeship has enabled me to gain work experience whilst studying and has definitely opened a lot of doors for me. I now have a level 3 qualification in something I never thought I would, and I'm working for the UK's biggest government department with constant new opportunities arising.
"I've enjoyed the experience so much that I hope to apply for a level 4 apprenticeship to further my knowledge in the field, whilst getting paid to do so."
She's also enjoying the employee benefits of working in DWP Digital.
"A good salary, generous holidays and many, many opportunities make this a great career option for someone leaving full-time education. Plus, flexible working means I have plenty of time to focus on my art as a hobby rather than a chore.
"It's allowed me to get paid a full-time wage while learning, which meant I could save money, put a deposit down on a house and live comfortably. I can apply for higher grade jobs in the Civil Service, and start climbing the career ladder."
All of the learning, none of the debt
Lizy would encourage anyone considering an apprenticeship to take the leap. "In high school, we were always steered away from apprenticeships and told university was the 'right choice', but never told about the endless benefits to apprenticeships.
"You can actually gain experience in the field, as well as a qualification, which will make you stand out a lot more than other people who have a degree in the subject with no actual experience. University is all well and good until you're in thousands of pounds of debt for the same education you could have got through an apprenticeship!
"It also enables you to meet countless people working in the same field, meaning new opportunities are constantly arising. I feel I've been able to accelerate my career massively through my apprenticeship here."
If you like the sound of an apprenticeship at DWP Digital, find out more, including how to register your interest.