Ian's career changing software engineer apprenticeship journey
Ian Balmain, software engineer apprentice
Ian Balmain is currently on an apprenticeship to become a software engineer. He started the programme, which is expected to take just over a year to complete, in September 2019. Ian shares his journey so far:
"I was offered a place on the level 3 software engineering apprenticeship, which is the entry level. I didn't need any formal software engineering qualifications, but I did need GCSE qualifications in maths and English.
Once I've completed the course, I'll be accredited by BCS, the Chartered Institute for IT. I'll be able to go on and study for higher levels of accreditation and it will provide me with opportunities to develop myself further and look for associated roles, for example DevOps."
Changing careers
Ian joined DWP in 2000 working as a telephony advisor in the Pension Service. He went on to work in lots of different roles, gravitating more and more towards those with an IT focus, as he's always had a passion for technology.
"Prior to working for DWP I was a screen printer in the ceramics industry. My claim to fame is producing some tiles for the Tate Modern gallery. I can genuinely claim that some of my work is displayed in the Tate Modern – cafeteria! So it just goes to show that a digital apprenticeship is a career path that anyone can take, as long as you have an interest in technology.
"When I learned about the apprenticeship programme I was really excited. I was working in a Digital Integration team at the time. My experience was in risk management, project delivery and live support, but I had a desire to be a software engineer since my school days, so the apprenticeship vacancies were an opportunity to do just that.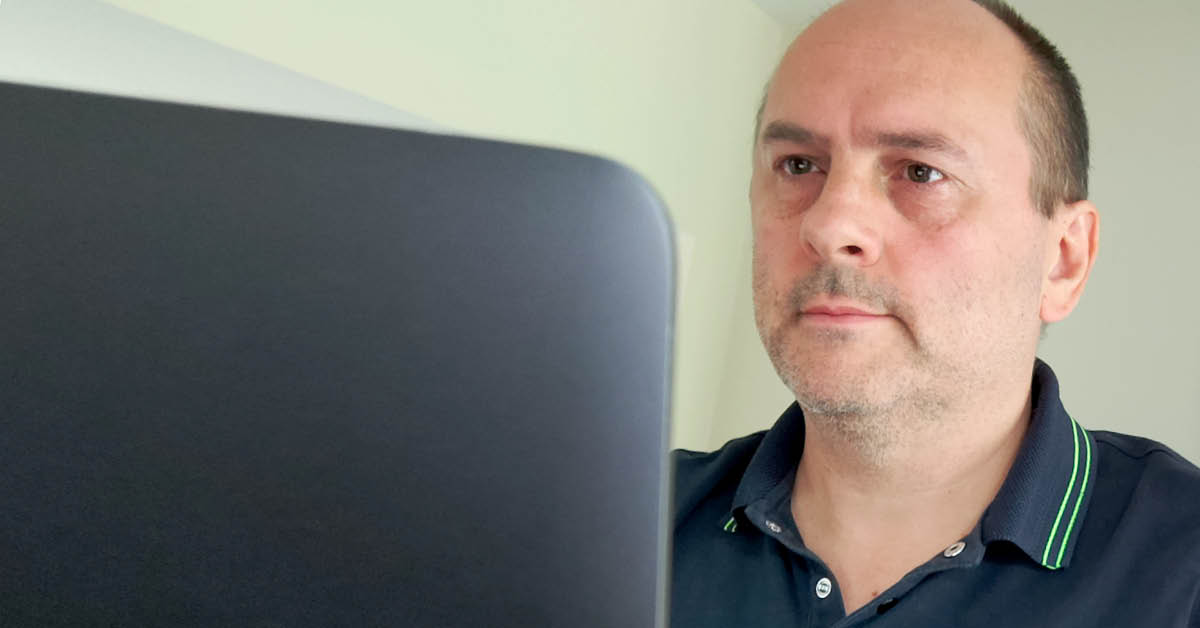 Help and support to apply
"I took computer studies at school and had a computer at home that I liked to tinker around with, but although I was interested in computer programming back then, I never had the chance to pursue it as a career. I think I had preconceived ideas that I'd need relevant qualifications or relevant experience to apply, so I feel very fortunate that I was supported in my ambitions to do so."
Ian took advantage of the colleagues around him by asking other software professionals about the role and what to expect from a career in software development and software design. This gave him the confidence to apply.
Ian says: "I spoke to one of the lead software engineers in the team, who helped me with some additional learning and encouraged my application. It boosted my confidence and helped me to realise that I had the potential and that it was definitely something I wanted to pursue.
"I also have a friend and colleague that had moved to a software engineering role and I talked to her about her experiences. Earning a salary while I learn is a great boost and negates financial worries traditionally associated with a career change or apprenticeship."
What to expect
Ian's apprenticeship programme consists of 6 modules. Each module begins with pre learning which is provided through an online training portal. This is followed by classroom style sessions – which have moved to virtual delivery for now, due to the coronavirus (COVID-19) pandemic. So far, the virtual classroom sessions have worked really well.
"The classroom sessions build in complexity, and are led by a very knowledgeable tutor from the apprenticeship provider (QA Training). You're allowed to progress at your own pace and the tutors are very supportive if you need a bit of extra time to absorb a particular topic."
The training portal is available on the DWP intranet at all times, and the classroom sessions are reflected within. This gives you time to delve back in after the classroom session has ended.
"I took advantage of this in order to cement my knowledge on certain topics. Balancing learning time is tricky and has been a bit of a challenge at times, but I've found the right balance."
Working on real services
"In my team we develop shared platforms with a real focus on reusability. DWP is transforming and digitalising its processes to benefit the citizens who use our services. The coronavirus (COVID-19) pandemic has highlighted the importance of this and many solutions have been developed rapidly to respond to the crisis. This makes my work dynamic and rewarding.
"The apprenticeship programme has helped me realise an ambition from my school days that I will be forever grateful for. It could lead to further education or a future career in software development.
"If you're thinking of applying for an apprenticeship, I'd say go for it. It can be a valuable route to learn skills that will lead you to a new career."
Find out more about our apprenticeships and how to register your interest.