From operations to agile delivery: solving problems for citizens
Ceejay Momoh is an agile delivery manager in the integrations team at DWP Digital. She's based in Manchester, and joined DWP Digital in March 2018.
She says: "I'm an agile delivery manager, which entails leading on agile and lean practices for my team, removing impediments and just ensuring team health. I make sure my team can get on with building great services."
Ceejay has been a civil servant for a few years, but only recently moved into delivering digital services.
"I studied microbiology at university," she says, "and went on to a career in the health service in the laboratory. I dabbled in teaching, then joined the civil service.
"I actually worked on the front line in operations for about five or six years, then joined the Digital and Technology fast stream. I wanted to build great services, and to make life and the experiences of my colleagues on the front line easier. I thought 'we can do this better' and, hey, why not volunteer and do that?"
Scale and variety
Ceejay was already a civil servant when she joined DWP Digital, and she knew the challenges facing colleagues and customers at the front line of services.
"I'd worked in operations, so I knew the impact our services have on people's lives. All of us are going to use DWP services at some point, so the scale is massive, and there's a lot of variety of projects. In just over a year of being in DWP Digital, I've already worked on infrastructure, building software, and agile delivery.
"Initially I was worried about not having the skills. But the team were so welcoming, and I had the support of senior delivery managers, and a whole community of delivery managers.
"Agile is a mindset. If you come from any other background, it takes some adjustment to get into that mindset. I don't have formal authority in the team structure, but I need to influence them.
"That was a difficult challenge, but I eventually got there."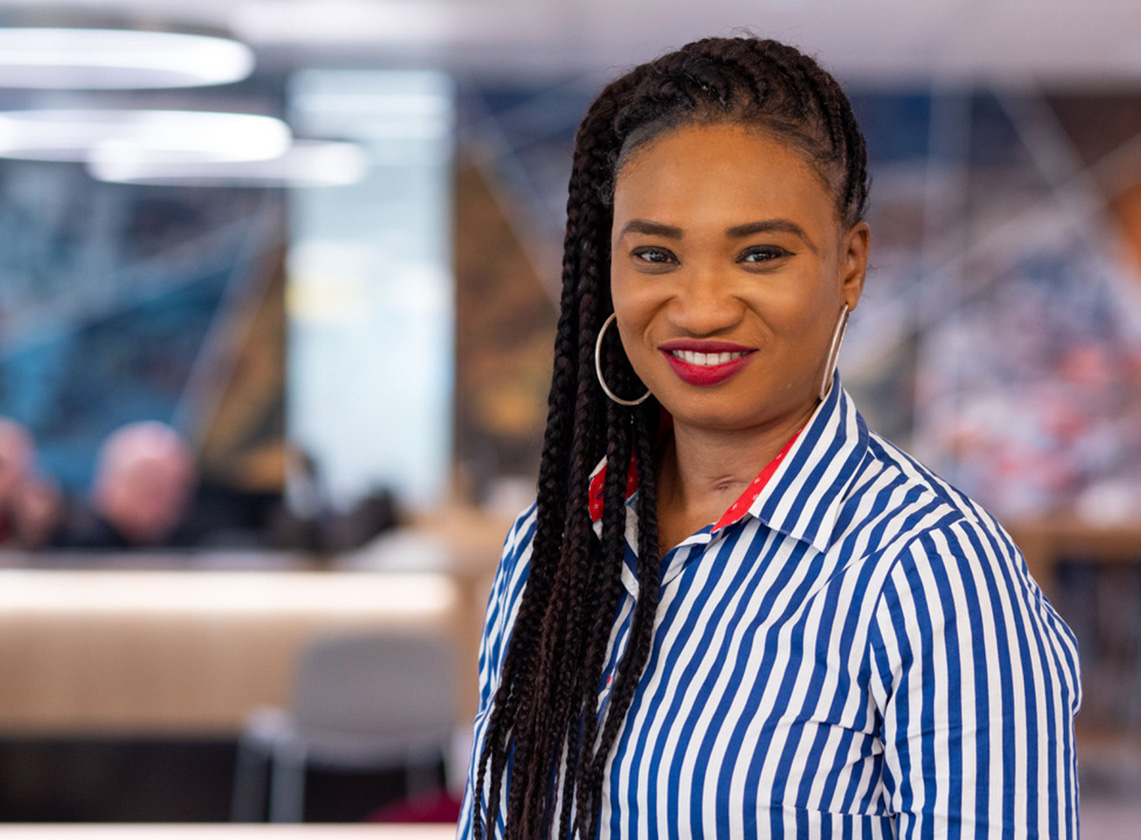 Delivering for impact with the integrations team
Although Ceejay was completely new to agile, she was given a project, along with the support of mentors, coaches, and self-led learning. She trained in agile methodology, including Scrum, Kanban, and sprint planning.
"I love applying learning to my work, so that was really interesting for me," she says. "I set about learning as much as possible in a short space of time, using the 70-20-10 rule of formal and informal learning.
"I was networking at agile meetups in Manchester, watching videos about Scrum, going to community of practice meetings. Just talking to other delivery managers – I found that really helpful."
Ceejay's team – integration services – has nine members. As well as an agile delivery manager, there's a digital delivery manager, product owner, business analyst, software engineers, Dev Ops engineers, and a user researcher.
"We're currently working on the strategic API exchange platform, which is a solution for the whole of DWP," says Ceejay.
"Our overall aim is to improve the experience for our end-user. For example, one of the projects I worked on reduced the average application process for claimants from two hours to 20 minutes, though a simplified triage process."
Using innovations and technology to solve problems
Working with new innovations and technology is one of the things Ceejay finds interesting and rewarding in her role. Particularly when there's a positive impact on the end-user.
"Sharing and reusing technology and systems is a key thing for us," she says. "We're currently exploring the Mulesoft Anypoint Platform, in order to migrate our API gateway and API portal.
"Ultimately, the benefit of that will be that people in DWP Digital will be able to log on to the API portal and look for something they can use, instead of building their own APIs from scratch."