'A happy accident' - Fey's route into a tech career
Fey Ijaware is a senior front-end developer on an agile team. She works with a user researcher, content designer and interaction designer on prototyping solutions before they get built. She also makes sure that services are optimised and perform well for users.
"Part of what drew me to DWP Digital was the hackathon I attended last year ‒ Hack the North 2.0, here in Manchester," she says. "I was really impressed by the people and what they were trying to do. Everyone really cared about what they were doing, and the problems they were trying to solve.
"It felt like the kind of place I'd want to work, and that I'd be able to make a positive difference."
Fey didn't always know what she wanted from her career, and she describes her route into tech as a 'happy accident'.
"When I left university, I wasn't too sure what I wanted to do. Due to some reshuffling at work, I got a new manager who gave me a website project to have a look at. That was how I got a taste for developing.
"I had to self-learn, and fell in love with coding and developing. After 13 months of developing, I decided to take a year out to study what I needed to be developer.
"I went for every learning opportunity I could find, and I even got a scholarship to learn Android Development from Google. After nine months of learning, I was able to get a role as a front end developer, and I've been doing that for over two years now."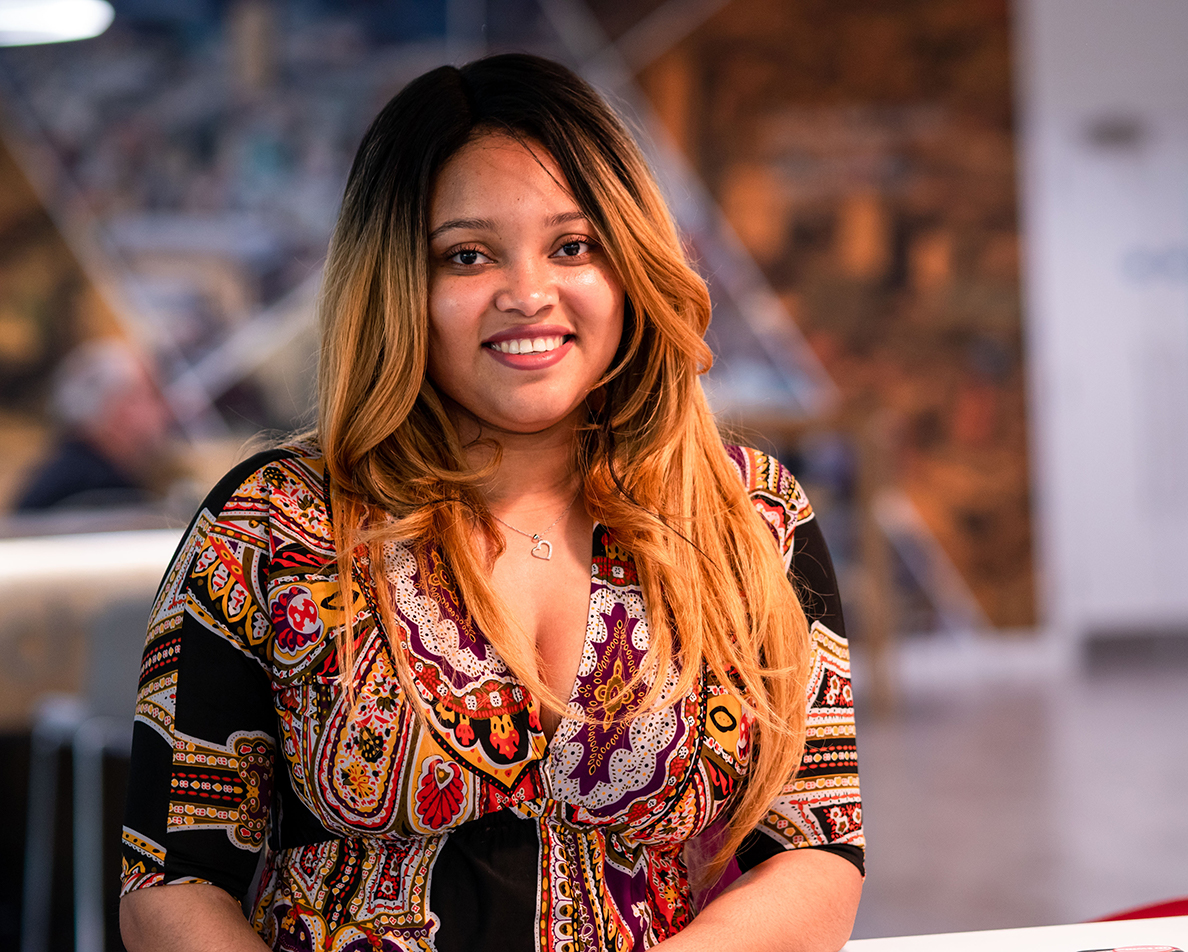 Making the decision to join DWP Digital
There were a few things Fey was worried about when she first decided to join DWP Digital.
"Working for the government felt intimidating at first," she says, "but I was also worried about the working culture, and the diversity of the team I was joining. But once I joined, I quickly realised it wasn't an issue. Everyone's really welcoming, and we all pull together to deliver our projects.
"Being a self-taught developer, I also had a lot of self-doubt about my abilities. There's always that initial doubt that I don't know enough ‒ and a little bit of imposter syndrome there ‒ but my team were really welcoming and that helped."
Growing a network in digital
Networking with other women in tech is important to Fey, so getting involved in DWP Digital's Women in Digital events was an obvious move.
"I strongly believe in finding your tribe," she says. "It's the best way to grow and develop. Getting involved in DWP Digital's Women in Digital network has been a great opportunity for me. I've started to get more involved in some of the events here in Manchester, and I'm very happy to be a part of that.
"I've been in teams in other jobs where I'm the only woman, but here that's not the case at all. Although I'm the only female developer in my team, there are plenty of female developers in other teams. Being part of Women in Digital has given me the opportunity to network with them."
Fey's networking extends to her life outside of DWP Digital. She is a co-organiser of two coding meetups, and also runs CodeandStuff – a coding community for women and non-binary people, with weekly events.
"Because I'm self-taught and tech is always evolving, I'm always looking to learn more," she says. "I code pretty much 24/7. I founded CodeandStuff to help diversify tech, and help other women and non-binary people have a better self-taught journey than I had. Some of my DWP Digital colleagues have supported me with it since joining.
"I really care about social impact, and knowing I work with people with similar values gets me up for work every day."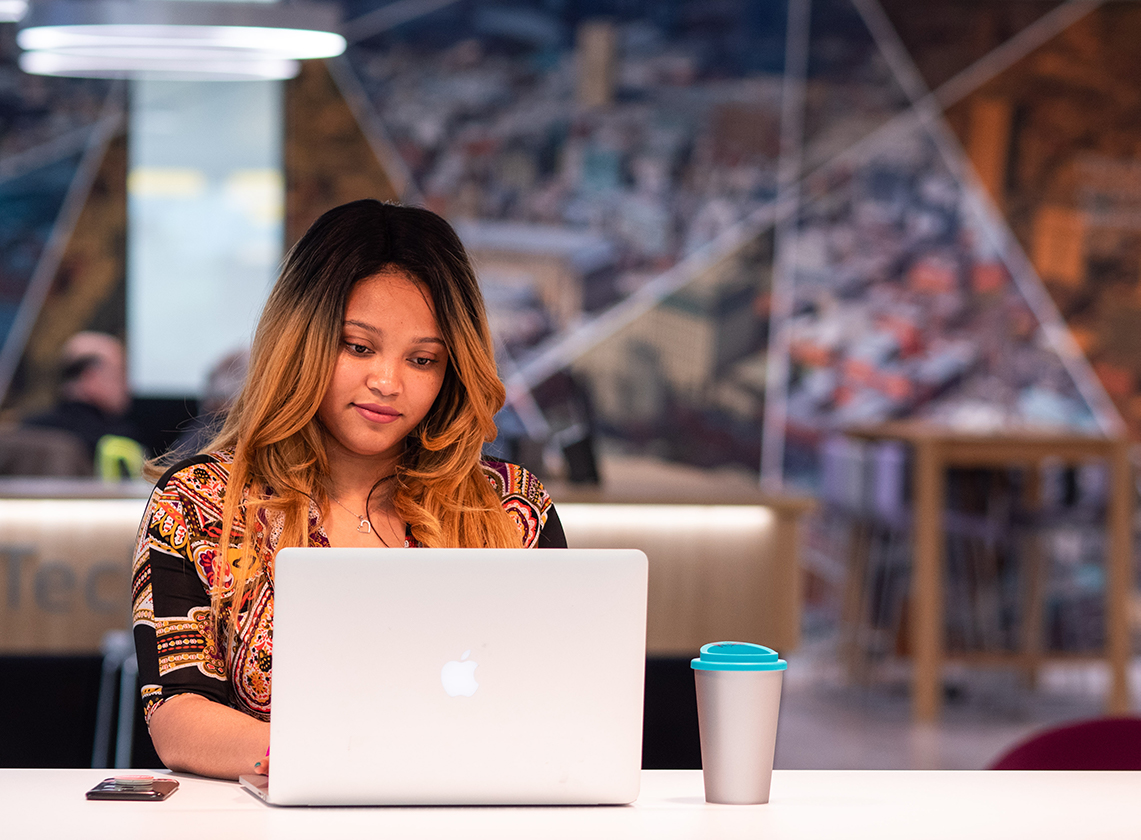 Agile working in a government environment
Fey is part of a close-knit agile team, consisting of a product owner, an agile delivery lead, two DevOps, two software developers, a quality assurance tester, interaction designer, user researcher, and two business analysts.
"I lead on the front-end," she says. "We work really closely, and everyone pulls together across the whole project."
The team are working on the 'Prove you can apply' tool, which is used by work coaches to assess people's eligibility for benefits. The tool ensures people don't go through a long assessment process, achieving a better outcome for work coaches and customers.
"I've had the opportunity to visit Jobcentres on research visits to see how people are using the tool," says Fey, "and research ways of improving their experiences.
"The biggest challenge with the project has been understanding all the different user journeys, so that we can make it better for everyone. People are all different, and they have different circumstances.
"So we've done a lot of user research to understand the needs and challenges for people using the tool, and done a lot of investigation to come up with good solutions for their problems."
Connecting people through technology
Collaboration is essential to agile methodology. As well as using Kanban boards, and working in sprints, Fey's team deliver show-and-tell presentations to stakeholders – some of who are located in other sites.
"We recently had Surface Hubs – interactive multi-touch screens – installed in the office, and that's enabled us to do cross-team show-and-tells," Fey says. "Every Thursday we have a show-and-tell with teams in Leeds, London, Harrogate and Newcastle.
"Each team demos the solutions they've been working on, and goes through their research. It enables us to work well together, and see whether there are things we can reuse or repurpose between us. Having the technology to remotely connect to other teams has enabled us to work smarter."
Now that she's got a few sprints under her belt, Fey's initial worries about working in government are a thing of the past.
"One thing I'm really proud of is the number of product releases we've achieved. It means we're constantly improving services, and making people's lives a little bit easier.
"What really motivates me is not just that I get to code, which is something I love, but the impact of what I'm coding on the millions of people who use our services. That makes a big difference to me."
Related jobs