Using technical expertise for public good
Nava Ramanan is a lead infrastructure engineer for DWP Digital's Windows 10 future configuration team. His team develop the Windows 10 build for the Department for Work and Pensions (DWP), and design its evergreen strategy for over 100,000 end-user devices.
He began his career as a webmaster in early 2000, starting his own web hosting company in 2001. Nava worked in the private sector for a number of years before joining DWP Digital in 2017.
Using technical expertise to help people
"I'm really proud to be a civil servant," he says. "It gives me the satisfaction of supporting the provision of services to some of the most vulnerable members of our society. My work has genuine benefits to thousands of civil servants, who in turn will be able to help make a real difference to people's lives.
"As a technical expert, it's a gift to work in such a large-scale environment, with over 100,000 client machines, using the latest technologies and hardware. Our Digital Workplace project promotes a good work-life balance, with lots of career growth and training opportunities."
Nava leads a very busy life. Along with delivering large-scale transformational projects across DWP, he's also an army reservist. He spends a lot of his weekends working as a Specialist Reserve Officer with the Royal Corps of Signals.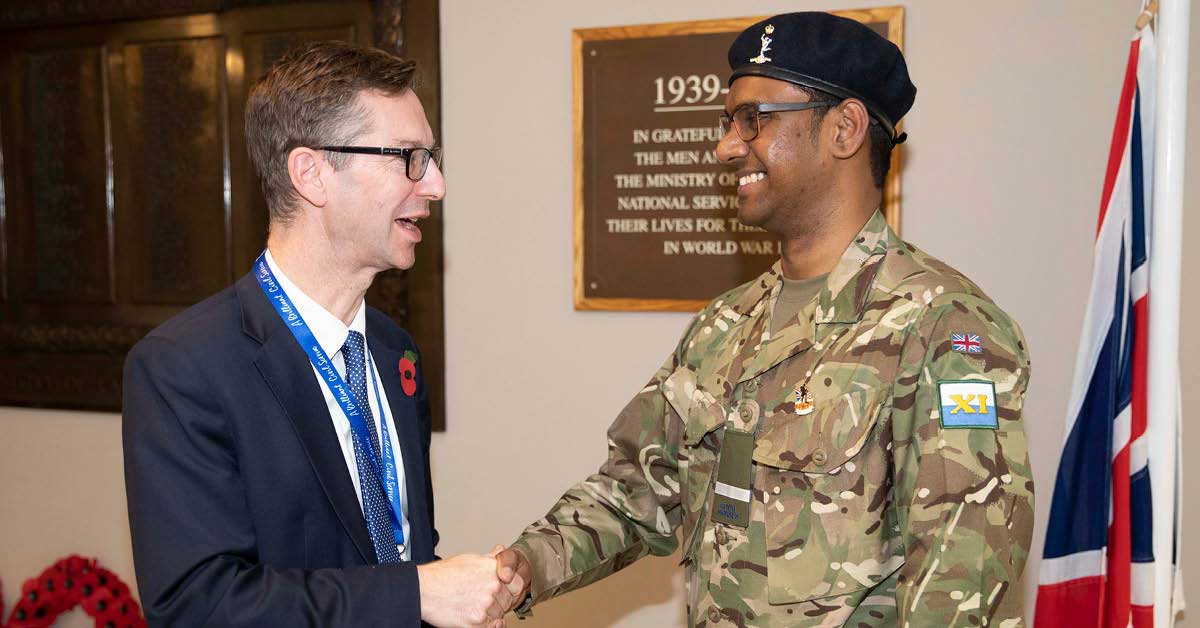 "I've always wanted to join the army and follow in the footsteps of my uncle, who was a major in the army. But with family commitments, I had to think carefully about when the time was right.
"I started looking into it last year, and found a role that was the exact match of my work in DWP Digital. I wanted my time and commitment to the army to be as effective as possible.
"For me, joining the Army Reserves develops every skill I need to succeed, both as an army officer and a civilian; courage, self-discipline, organisation, mental resilience, physical fitness and self-reliance."
Challenges and opportunities
The biggest challenge in his role in DWP Digital is the commute from Essex to Manchester.
"I'm currently unable to relocate." he says, "So I regularly stay away from the family. That can be really difficult but, with the help of my manager, I'm able to work remotely, in the London hub. And I work from home sometimes. The collaborative tools we have within DWP Digital help this a great deal."
Nava's immediate team is small, in comparison to other project teams in DWP Digital. There are just five team members: three infrastructure engineers, a project manager, and a product support manager. The wider Windows 10 team has 13 members, including a support team and a service manager.
He says, "We're rolling out the latest Windows 10 build, on high-spec mini-PCs and shiny 2-in-1 laptop devices, with the latest technologies. As the team lead, I also manage the performance and development of a team of infrastructure engineers. I make sure we have the capability to deliver the services the business needs.
"I enjoy being part of the digital transformation within DWP on the end-user estate. We've moved from Windows 7 to Windows 10, bringing in modern hardware and software, and managing everything in-house.
"It's been very challenging. I've played various roles throughout the programme, from leading technical discussions and hardware acquisition, to designing integral services."
Being part of the change
Nava says the digital transformation happening in DWP is part of a bigger change happening across the Civil Service.
"It's interesting to see how cloud technologies have evolved in the last few years, especially in big government departments like DWP. The Civil Service is breaking free of the myths around security and reliability concerns.
"Things are moving very fast in the sector now, and I like to spend my free time learning more and watching emerging trends. In the last few years, I've attained over 11 professional technology certificates and qualifications, including Information Technology Infrastructure Library, Microsoft, Citrix, and Certified Ethical Hacker."
The opportunities to continually develop and improve are important for Nava, who's keen to keep his skills and knowledge up to date. And there are other reasons he's planted his feet firmly in DWP Digital.
"It's a fast-moving, agile environment," he says. "It's also diverse, and people here are really helpful and supportive. Everything is focused on making the user experience better – this is at the heart of what we do.
"There's a real spirit of openness, teamwork and communication across the different teams to achieve, and where obstacles are present you never feel alone. We work in product teams which are focused on broad sets of technologies – some of us are specialists in specific areas, but we always seek to spread the knowledge and experience as wide as possible.
"It's part of the ethos here to give everyone the opportunity to be challenged with new and unfamiliar technologies, to be supported and be supportive to others. That's something you don't always find in the private sector."