Leading an agile integration team
Jacqui Leggetter is the integration lead in DWP Digital, based in our Newcastle hub.
"Working in DWP Digital brings a new challenge every day," says Jacqui. "One of the biggest challenges at the moment is how we can build reusable services using API event-driven architecture."
Focusing on the user journey
"The next phase of our transformation strategy focuses on providing joined-up user and colleague experiences." Jacqui explains.
"As technology evolves, one of the bigger challenges is building technologies for reuse rather than developing specific siloed products each time.
"To do this, we identify the shared elements of a service and build them as reusable and sharable components right from the outset. Our APIs follow consistent patterns, so the components can connect together for a seamless end-to-end service."
Building systems that work together
DWP's existing user journeys often lead to a silo approach, where teams operate independently from each other, and struggle to connect with other government departments. Our future strategy is to move towards a joined-up organisation where we consider all processes and policies before building a service.
Jacqui says, "For example, a person reaching pension age will have to make a claim for State Pension. That claim will be looked after by the Pension Service. However, that person may also have some additional care needs which means they would need to make a separate claim for Attendance Allowance. This will involve filling out separate claim forms.
"Our new way of working will look at the citizen journey from beginning to end and consider all the different types of interactions they will have with DWP."
This goal is driving the reuse of some of our technical components.
"We currently have some reuse of our shared user data, but overall it's a very complex landscape for citizens, who need to interact with multiple services."
Creating a multichannel experience
Users also want to choose how they interact with DWP, so we need to support a multichannel approach.
"Online is our preferred method," says Jacqui, "but we recognise that some people want to use the telephone or even post. For the most vulnerable, we need to continue to provide a face-to-face service.
"What we really want to do is provide the means for a single interaction with DWP thorough a multichannel experience, so that citizens can contact us in the way that's best for them."
Jacqui says, "We've started to build shared, reusable technical components that underpin our citizen services, so we capture all of the information we need from them once.
"This helps us build services that look and feel similar, making it easier for citizens to interact with multiple products. It also makes it easier for our service delivery colleagues to move between one service and another."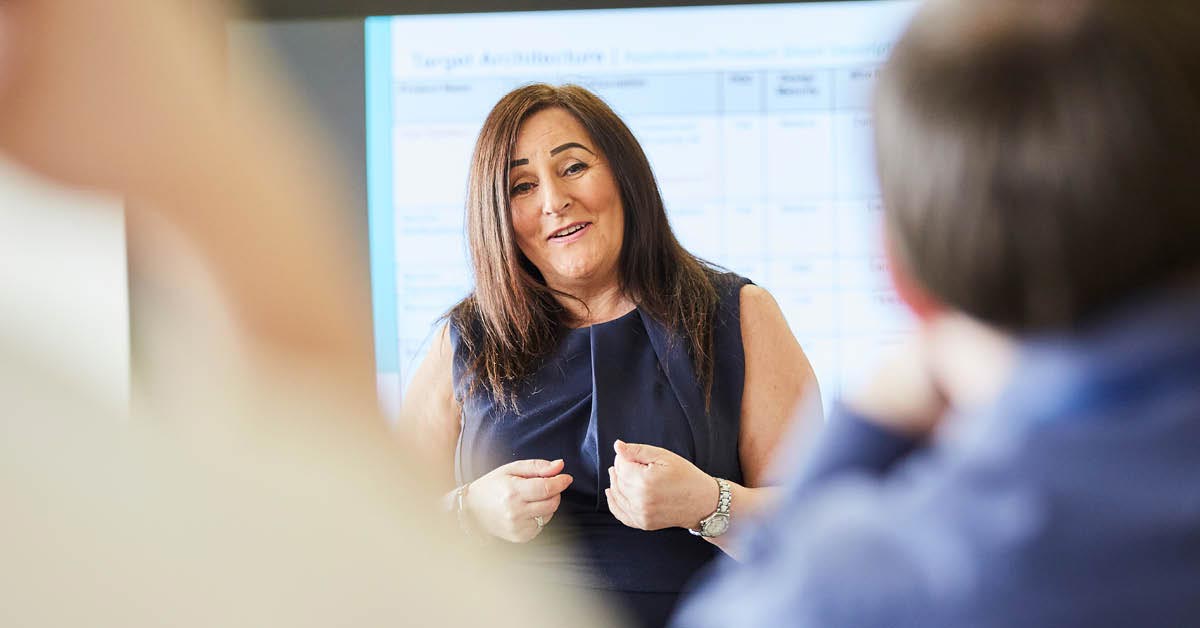 Working on large scale projects
DWP Digital delivers some of the largest tech projects in Europe, and with big challenges come big opportunities.
"One of the biggest challenges is the scale of our services," Jacqui says, "in particular, building an ecosystem of largely shareable technical components that connect through APIs and events.
"We need to have trust and confidence that these components will be able to support the multiple demands and high level of throughput needed, not only to support DWP services, but also to support the wider data sharing cross government."
Working in this real-time data sharing world means there is a higher dependency on DWP Digital's services, and while we try to build services that make failures less likely; they still happen sometimes. We need sophisticated monitoring and alerting in place so can identify and resolve issues fast, this means much closer working between our infrastructure and software engineering experts.
"It's essential to get the right people working on a particular problem, who understand the technologies and complexities of the end to end service, including application, infrastructure, network and business impacts.
"Adopting agile ways of working and shifting to a shared component model is a real culture change that needs strong buy-in across digital is key to our success."
Balancing work, life and fun
People are actively encouraged to be themselves at DWP Digital. It's an environment where people are valued and trusted.
"For me this means bringing my personality into work. While the work is obviously important, we like to do it with some fun and actively encourage social activities. I'm mindful of different personalities, and I want my colleagues to feel comfortable to bring their whole selves to work.
"We're currently in one of the most challenging times globally with the coronavirus pandemic. Within the first month of lockdown, DWP received almost 2 million new claims to Universal Credit.
"Responding to this unprecedented demand on our services has been a real challenge. My integration team delivered 37 projects in the first 3 months of lockdown, all of these enabled process automation and better sharing of information across DWP and other government departments to help the wider COIVD response.
"We delivered this while caring for colleagues' wellbeing and moving to new ways of working. During the lockdown we haven't been able to organise our normal social events in or out of the office so we have maintained social contact though online buffets, quizzes, bingo, catchphrase, and wine or ale tasting!
"I'm really fortunate to work with some of the most talented people I have ever known in DWP Digital; and it's a great environment where people feel supported and looked after."
Making an impact on society
"I'm passionate about the services we deliver, which is something I'm able share with my colleagues to help inspire their enthusiasm. There isn't really anyone in the UK that doesn't have a family member that uses our services and I'm aware of that.
"In some of our technical roles, we don't always see the impact of what we do on the user or colleagues who administer our services. It's important to understand the user journeys and impact of the services we develop, so we clearly see the outcome of the things we build and support."
One of the biggest projects Jacqui's team have delivered recently is the NHS Free Prescriptions service.
"My team have worked closely with the NHS and other areas of DWP Digital to provide a real time prescription exemption check. This check means that the pharmacist can do a real-time check to confirm entitlement with DWP. The check only takes a few seconds so can be completed before the medication is dispensed.
"This project is now live in a number of pharmacies and has been a great success. Full roll-out has been a little delayed due to other priorities in the NHS but we are working on plans for that in the new year.
"This project not only delivers a much better service for citizens, but also has a real impact in terms of reducing costs for the NHS who currently spend a significant amount of funding on manual checks and debt recovery."
A great place to work
"I'm encouraged to grow and learn here," says Jacqui. "Improving my technical skills has been key for me. Combining those skills with leadership opportunities has been an exciting learning journey and, I believe, has made me a great technical leader.
Across DWP Digital, people are actively encouraged to innovate, try new technologies, fail fast, and stretch their thinking to design and build new products.
"To balance our technical capability," says Jacqui, "I also get lots of opportunity to grow and develop my leadership skills.
"This has been critical in looking after my team's well-being during the pandemic. I'm really passionate about helping people be the best they can be in whatever they chose to do. I feel very lucky to work in an organisation that actively encourages and promotes great leadership behaviours at all levels. That's what makes DWP Digital a great place to work."
See all our current vacancies.